What's New?
Haiti struck by Hurricane Matthew

In early October, Hurricane Matthew battered the southern coast of the island, destroying homes, schools, small businesses and farm operations. Many people have asked us how they can help the Haitian people deal with this new trial.
For those of our families, friends and benefactors who would like to make a financial contribution to the works of the Sisters of Saint Anne in Haiti to improve the lives of Haitians, click here to make your donation.
Thank you.

Sustainable development: The 17 goals

On September 25, 2015, the United Nations adopted a new development program consisting of 17 goals. All countries, institutions and peoples will be working toward these goals for the 2030 horizon. From 2012 to 2015, we took part in United Nations discussions and surveys and sent feedback to contribute to defining the kind of world we want and the new agenda for development with a set of 17 Sustainable Development Goals for 2015-2030. The SSA Social Justice Network has integrated this sustainable development program into its 2015-2016 direction.

Pope Francis, World Day of Peace, January 1, 2017

"All of us want peace. Many people build it day by day through small gestures and acts; many of them are suffering, yet patiently persevere in their efforts to be peacemakers". In 2017, may we dedicate ourselves prayerfully and actively to banishing violence from our hearts, words and deeds, and to becoming nonviolent people and to building nonviolent communities that care for our common home. "Nothing is impossible if we turn to God in prayer. Everyone can be an artisan of peace".

Web site: http://w2.vatican.va/content/francesco/en/messages/peace/documents/papa-francesco_20161208_messaggio-l-giornata-mondiale-pace-2017.html

15th anniversary of Mother Marie Anne's beatification

April 29, 2016, marks the 15th anniversary of Mother Marie Anne's beatification. Activities took plsce in all the provinces to commemorate this important event.

OPENING OF THE CAUSE
A new postulator in the Cause of Blessed Marie Anne Blondin has been appointed in Rome: Father Thomas Klosterkamp, O.M.I.

THE MESSAGE OF MARIE ANNE BLONDIN

"The Message of Marie Anne Blondin" newsletter is now online. There you can read the Word from the Editor and the article "It's snowing mercy!", an expression coined by the author to emphasize the quiet nature of mercy and the sense of wonder we feel when we see mercy in action. The newsletter also presents many grateful testimonies for favours received from people who believe in the powerful intercession of Blessed Marie Anne Blondin. The newsletter is published twice a year. To read the Message online, click here. If you would like to receive a paper copy, please let us know by writing us at causemab@ssacong.org

Marie Anne Blondin Centre in Quebec

Visits to the Tomb of
Blessed Marie Anne Blondin

Visits to the tomb of Blessed Marie Anne Blondin take place in an atmosphere of quiet reflection for individuals and small groups. For larger groups of visitors, we can organize a visit to the tomb and the chapel as well as a talk on our foundress. Depending on your interests and our availability, we will make every effort to meet your expectations. Appointments can be made by calling SisterChristine Mailloux at 514-637-3783, ext. 297.

50 Years Serving Women Religious Around the World: Jubilee of the UISG, 1965-2015

The founding of the International Union of Superiors General (UISG) was approved by the Council fathers on December 8, 1965, the last day of the Second Vatican Council. The UISG's jubilee celebrations began December 12, 2015, with a Solemn Eucharist in Rome, marking this important day for women religious. It is an opportunity to give thanks for the blessings of these past 50 years and for the courage of the leaders to set out on a new journey of renewal in response to the needs of our time, said Sister Patricia Murray IBVM, UISG Executive Secretary.

THE UISG'S NEW WEBSITE

The UISG launched a new website in February. Click on the link to go to the website. There you will find a variety of timely and interesting articles. You will also have access to other organizations and areas of interests.

Prayer Requests

The Congregation of the Sisters of Saint Anne regularly receives your prayer intentions, which are placed at the foot of Blessed Marie Anne Blondin's tomb.
Everyone who comes to the tomb prays for your intentions. Please send us your prayer requests by clicking on the link.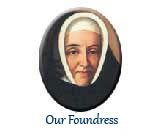 A note from Mother Marie Anne


Prayer to obtain a favour through the intercession of Blessed Marie Anne Blondin
Helpful links

LCWR


UISG


Living with Christ