Esther Blondin, Our Foundress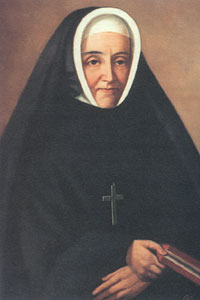 Esther Blondin was born in 1809 in Terrebonne, Quebec, now a suburb of Montreal. Her parents, Jean-Baptiste Blondin and Marie-Rose Limoges, were modest farmers and lived on a country road called Côte Terrebonne on the edge of the Mille-Isles River.
Wanting to help her family, Esther went to work for a village merchant as a domestic at the age of 20. A few months later, she offered her services to the Sisters of the Congrégation de Notre-Dame, who ran the parish school. Herself illiterate, she learned to read and write as she went about her work. She then entered the CND order, but illness forced her to leave the novitiate in 1833.
That same year, after a few months' rest, she responded to an invitation from another former CND novice who was running a school in Vaudreuil, just west of Montreal. Esther joined her, and thus began her teaching career. Several years later, she became the principal of the school, which took the name Académie Blondin, since Esther prepared young teachers there for the country schools.
(photo: Archive of the Sisters of Saint Anne)
Mother Marie-Anne Blondin, portrait by Sister M.-Hélène-de-la-Croix, 1953.